Standard Insurance is pushing industry-wide change in the Philippines
Standard Insurance has led the way in industry development in the Philippines. As such, the company is embracing the opportunity to adapt further to coming changes in the market
Standard Insurance has led the way in industry development in the Philippines. As such, the company is embracing the opportunity to adapt further to coming changes in the market
After steadily expanding over a number of years, the Philippine insurance industry is set to scale new heights, pushed forward by technological innovation. The industry has remained resilient and upbeat in recent times, riding on the country's evolving economy. Though it faces myriad challenges, the outlook for the Philippine insurance industry remains optimistic.
The Philippines' Insurance Commission reported an increase in the country's per capita insurance density of 16 percent from 2017 to 2018 – a value of PHP 2,054 ($40) for each Filipino with insurance.
These numbers indicate a growing demand for insurance cover in the country. More than 60 million Filipinos had some form of insurance coverage by the end of 2018, compared with just 48 million in 2017. More importantly, the fact that the industry's insurance penetration rate remains low indicates that there is still much opportunity for further growth.
Millennial modernising
The Insurance Commission continues to push for digitalisation and further innovation by encouraging a better customer experience with more relevant products, thus increasing its levels of insurance penetration. Until recently, the industry has been known as a traditional market, with most individuals preferring the added comfort of a face-to-face meeting with an insurance intermediary. However, with the evolving market landscape intensifying as the result of a growing number of technology-savvy young customers, the industry is being challenged to innovate. Increasingly, there is pressure to create products that cater to younger customers by utilising online platforms as promotional channels for products and services.
Standard Insurance continues to focus on proper underwriting, intelligent pricing across all lines and high levels of sustainability, as well as fast and accurate resolutions to claims
Insurance companies have turned to insurance technology (insurtech) as another way to better serve its progressing market. Self-service dashboards, chatbots, SMS updates, the digitalisation of some parts of the claims process, and insurance comparison tools to guide customers to the best deal have all emerged in recent years. In fact, to encourage the use of insurtech, the Insurance Commission has issued a policy statement permitting insurance companies, subject to mandatory security requirements, to sell plans using apps on mobile phones, as well as to offer flexible payment frameworks in lieu of the usual payment methods.
Playing by the rules
The growth of the Philippine non-life insurance sector has not been without its challenges. The Tax Reform for Acceleration and Inclusion resulted in dismal sales for new motorcars in 2018, exacerbated by economic headwinds such as a weakening peso and rising inflation. New car sales for 2018 plummeted by as much as 16 percent, down to a total of just 357,410 new units sold, compared with 2017 sales of 425,673. As a result, motor vehicle loans have slowed down, recording a paltry 9.4 percent growth rate compared with 2017's 21.6 percent. These conditions have understandably also had a knock-on effect on car insurance rates.
Although motorcar dealers and financial institutions are major sources of insurance business, the industry as a whole – specifically, the non-life insurance sector – still managed to generate over PHP 89.04bn ($1.7bn) in gross premiums in 2018. This figure was six percent higher than the previous year, with the top 10 non-life insurance companies accounting for 63 percent of said 2018 gross premiums.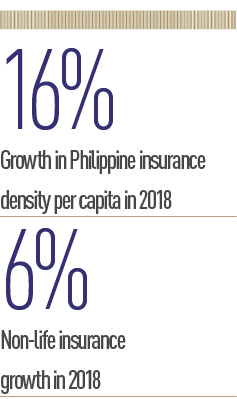 Furthermore, the Philippine insurance industry is faced with two major regulatory developments: progressive increases in risk-based and minimum net worth requirements, and the forthcoming introduction of the new global insurance accounting standards, the IFRS 17. Based on the Insurance Commission's list of insurance companies with valid and existing Certificates of Authority as of August 9, 2019, the number of insurance companies has decreased by 13 since 2013. Further contractions, mergers and consolidations are expected to be completed by year-end 2019, as several insurance companies are likely to remain significantly below the mandated PHP 900m ($17.8m) net worth level by this time.
Aggravating the situation is the forthcoming implementation of the IFRS 17, which necessitates the implementation of new systems that change how data is collected, analysed and processed. The International Accounting Standards Board approved the effectiveness of IFRS 17 for 2021 but subsequently proposed a delay until 2022. The implementation was then further delayed to January 1, 2023, with the Insurance Commission recognising a number of challenges to its implementation.
Nonetheless, all these measures are envisioned to further strengthen industry players and make them more competitive when facing their counterparts at the Association of South-East Asian Nations, while also aligning themselves with global insurance accounting standards.
Staking a claim
While insurance technology and other innovations are changing the industry almost imperceptibly, Standard Insurance has invested in a diverse range of skills, perspectives and approaches over recent years, and continues to do so today. This has allowed us to create and develop innovative products and new technologies, and maintain our relevance, even when faced with transformative market shifts.
Standard Insurance continues to focus on proper underwriting, intelligent pricing across all lines and high levels of sustainability, as well as fast and accurate resolutions to claims. Equally important, Standard Insurance has been deploying innovative products and new technologies while improving efficiencies in critical areas of operations to maximise sales potential and distribution networks.
Since 2009, Standard Insurance has been developing and maintaining a proprietary general insurance IT system called iINSURE, the core of which was designed based on a system inherited from Zurich Insurance Group following its acquisition in the early 2000s. Contemporary, flexible and affordably built in house, iINSURE enables Standard Insurance to meet existing and future customer needs.
Standard Insurance is proud to be an all-digital business, and its underwriting tools (such as the Web-Catastrophe Risk Management System), real-time claims evaluation system (iCATS) and telematics products, along with many other solutions, are all possible because of iINSURE. All subsystems that support the critical areas of Standard Insurance's operations are powered and linked to iINSURE.
Risk and reward
As insurers, risk management is embedded in our nature. As such, a review of the company's existing systems architecture was undertaken in 2016, which resulted in the eventual transition to using the cloud as a data centre. The past few years have seen the company exploring further ways of creating technological solutions to its business needs, increasing the pace of innovation and dramatically improving its already solid cybersecurity infrastructure.
A collaboration with cloud services firm Cato Networks, formalised in early 2017, was used to connect our 60 branches nationwide, linking the head office and the company's cloud infrastructure as a single software-defined wide area network. Firewalls, intrusion prevention systems and cybersecurity rules are now centralised in the cloud, providing greater operational stability.
In early 2018, iINSURE, iCATS and all related apps were migrated to the cloud, making Standard Insurance the first insurance company to do so. Amazon Web Services was employed to meet the company's quality, reliability, speed and redundancy requirements.
Complementing the firm's existing motorcar analytics, Standard Insurance has adapted tools like artificial intelligence and data science to enable a more in-depth analysis of its data sets. This has helped us to better understand the peculiar risks and characteristics related to different vehicle types and markets, to estimate our expected losses, and to improve churn rates. This approach serves as the foundation for intelligent motorcar strategies and pricing, improved customer services and the creation of innovative products that better address the needs of the evolving insurance population.
To develop marketing capabilities that complement our traditional sales platform, we have ventured into online sales, which allows customers to buy private car and travel insurance quickly and easily using our online risk assessments. Our digital sales platform has recently expanded to include social media as a tool for conversational marketing.
As consumers turn to Facebook and Google to find answers about insurance, Standard Insurance is ready to provide them. Initially this involves creating social media posts that build brand awareness, followed by other relevant posts that seek to educate the market on the importance of insurance. Finally, we create brand-building posts that communicate the four pillars of Standard Insurance: innovation, empathy, service and excellence. In 2019, after eight months of regular calibration, the company successfully sold 1,200 policies with a media budget of less than 10 percent of the premium, proving that Standard Insurance is more than ready to develop social media selling as its next major distribution channel.
Standard Insurance is well prepared and resilient when it comes to the challenges facing the industry, including the impact of new regulations, underpinned by the company's strong financial position and well-developed insurance infrastructure. The company has been able to grow its total premiums business, despite the dismal motorcar sales of 2018, off the back of its expanding branch network and strong business relationships with intermediaries. Likewise, the business is well prepared for progressive increases in risk-based and minimum net worth requirements, and welcomes the implementation of new global accounting standards.
As always, Standard Insurance continues to maximise the effectiveness of innovative solutions to solve the challenges at hand – whether they relate to generating premiums, client servicing or systems support. While our latest efforts in developing artificial intelligence and our use of data science have been geared towards improving operations, the company's strategic ambition is to become an exponential organisation – one that is able to post disproportionately large growth compared to its peers in the medium term. If we continue to listen, respond to our customers' needs and push forward with innovative solutions, we hope to achieve this objective.